Documenting the American South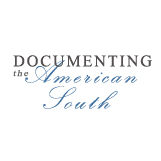 "Documenting the American South" is a project run by the University of North Carolina with the aim of making digitized content from the UNC Library special collections widely available. It contains material from four collections: The Church in the Southern Black Community, First-Person Narratives of the American South, Library of Southern Literature, and North American Slave Narratives.
This resource description is currently being revised and expanded.